ID verification Kiosks
Identity verification service by means of biometric matchings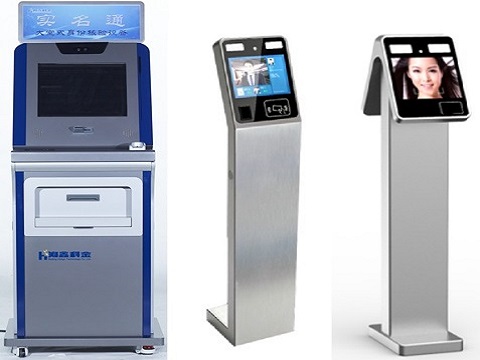 Hisign Biometric Kiosk provides attended or self-help identity verification service by means of biometric matchings, including fingerprint, face image and iris, of the captured biometrics with the corresponding registered biometrics or ID documents such as passport or ID card. The registered data can be either saved in the device or retrieved from backed database.
Product Functions
Actual functions combination varies according to differences in model, configuration or user requirements.
Multi-biometrics information collection
Face image/iris is automatically captured by the program with the built-in HD/industrial camera without manual operation. An embedded fingerprint sensor which is conformant with the international standard, is used to capture flat fingerprint image.
Passport reading (optional)
Support ICAO DOC 9303 standard
Smart card information reading (optional)
The demographic text, face image, fingerprint features and/or iris features can be read with the built-in ID card reader. The selection of ID card/reader and the selection of biometrics to be used are dependent on actual user requirement.
Evaluation of image quality
The devices are designed with face/iris image detection and standard clipping as well as image quality evaluation for the biometric capture process. It will prompt for re-capture in case of poor quality images, so as to guarantee accurate verification.
Printing (optional)
This module is used to print a certificate, receipt, pass, ticket, etc. for those successfully verified.
Product Applications
Border control at airports, stations, examinee verification for driving school, training institutions or other examination. Account holder verification for banking and securities transactions.