Hisign Achieves CMMI-DEV ML 3 Appraisals
Hisign's Strong Development and Business Practices Deliver High-Value Performance for Customers
On March 27, 2020, Beijing Hisign Technology Co., Ltd. successfully achieved CMMI ML 3 appraisals. Under great attention of the company's management, CMMI 3 certification project was officially launched in June 2019, and an EPG process improvement group was established for this purpose. After more than 9 months of gap analysis, training, system establishment, trial operation, preliminary evaluation, formal evaluation, and constant improvement of the process system in practice, Hisign had finally established a process management system that meets its development needs.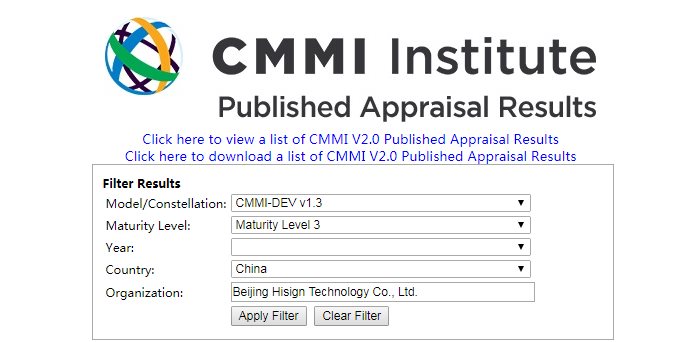 During the formal evaluation, the chief appraiser of the evaluation agency spent 8 days organizing interviews and document reviews alongside Hisign's own ATM team. The interviews involved the company's middle and senior management, product managers, project managers, development engineers, test engineers, QA personnel, configuration management personnel, organization-level training personnel. At the same time, all CMMI3 related documents of the company was reviewed.
The successful passing of the CMMI ML 3 certification testify that Hisign's software development capabilities is on par with the international mainstream. Not only to establish a set of management measures in software engineering to ensure the successful completion of the project, but also to institutionalize and standardize the management system and processes according to the actual situation and customer needs, greatly improving the efficiency of software development.
The improvement of the software development management process is still a continuous process and an indispensable part of enterprise innovation and development. In the future, Hisign will continue to improve the quality of software projects, reduce risks and costs, and enhance customer satisfaction. While improving the core competitiveness of the software development, Hisign will always focus on strengthening standardized management and increasing the maturity of develop capabilities.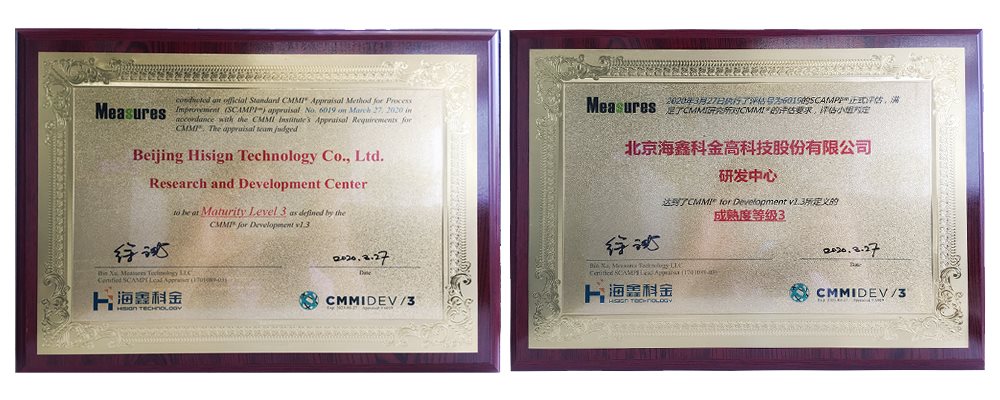 Capability Maturity Model Integration (CMMI) is a process level improvement training and appraisal program. Administered by the CMMI Institute, a subsidiary of ISACA, it was developed at Carnegie Mellon University (CMU). It is required by many U.S. Government contracts, especially in software development. CMU claims CMMI can be used to guide process improvement across a project, division, or an entire organization. CMMI defines the following 5 maturity levels for processes: Initial, Managed, Defined, Quantitatively Managed, and Optimizing.