Finger/palm Print Acquisition Device
Finger/palm print acquisition device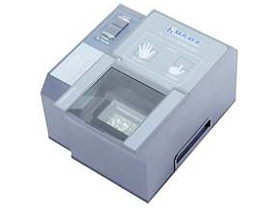 Finger/palm print acquisition devices are indispensable in implementing any automated biometric identification system including fingerprint and/or palm print matching capabilities. We have designed, manufactured and deployed different types of live scanner devices for our users to be applied in our ABIS projects.
HX-R8062U is a live fingerprint scanner for flat or rolled fingerprinting of single finger. It can provide high quality fingerprint images because of its advanced optical imaging system.
HX-T6019LT is a user-friendly device that captures rolled and flat fingerprints. The software guides the operator through the capture process with on-screen prompts and graphical displays. Real-time image quality check, sequence verification, auto-center, and auto-contrast functions ensure the capture of high-quality prints. It is compatible with the IAFIS Image Quality Specifications (IQS) for scanners, FIPS standard, and MILSTD-810F standard.
HX-P5321U is an all in one live scanner of fingerprint and palm print for forensics and police applications. It captures 500DPI images of lower palm, upper palm, writer's palm, 4-slap, 2-thumbs, single flat fingerprint as well as rolled fingerprint. It is connected to computer via USB and provide real-time image view. HX-P5321U can be used in criminal booking and thus indispensable in combating crimes and solving cases.