Test Results of FRVT 2013 TEST, NIST FIVE TEST and FDDB FACE DETECTION TEST
Excellent performance of Hisign face matching algorithm
1. FRVT 2013 TEST
The Face Recognition Vendor Test (FRVT) 2013 continues a series of large scale independent evaluations for face recognition systems. The primary goal of the FRVT 2013 is to measure advancements in the capabilities of prototype systems and algorithms from the commercial and academic communities. The FRVT 2013 aims to evaluate performance on several recognition tasks, including:
• One-to-many identification in a set of mugshot images
• One-to-one verification of visa images
• Multi-sample still facial imagery
• Recognition of persons in video sequences
• Twins
• 90 degree profile-view
• Gender estimation (M/F)
• Age estimation (in years)
• Pose estimation
• Expression neutrality
We participated this test in the name of Beijing Ivsign Technology Co., Ltd. with assigned company letter code G (Hisign), and obtained a result of FNMR = 0.094 at FMR = 0.001.
Click
HERE
for Specific test report: "NIST Interagency Report 8009".
2. NIST FIVE TEST
The Face in Video Evaluation (FIVE) is being conducted to assess the capability of face recognition algorithms to correctly identify or ignore persons appearing in video sequences – i.e. the open-set identification problem. Both comparative and absolute accuracy measures are of interest, given the goals to determine which algorithms are most effective and whether any are viable for the following primary operational use-cases: 1. High volume screening of persons in the crowded spaces (e.g. an airport); 2. Low volume forensic examination of footage from a crime scene (e.g. a convenience store); 3. Persons in business meetings (e.g. for video-conferencing); and 4. Persons appearing in television footage.
Ranked # 4 of all 16 vendors in the NIST FIVE test.
Click
HERE
for Specific test report: "NIST.IR.8173.pdf".
3. FDDB FACE DETECTION TEST
Face Detection Data Set and Benchmark (FDDB), a data set of face regions designed for studying the problem of unconstrained face detection. This data set contains the annotations for 5171 faces in a set of 2845 images taken from the Faces in the Wild data set. The test is organized by Computer Science Department at the University of Massachusetts.
As of December 26, 2016,FDDB top 5 test results as shown below.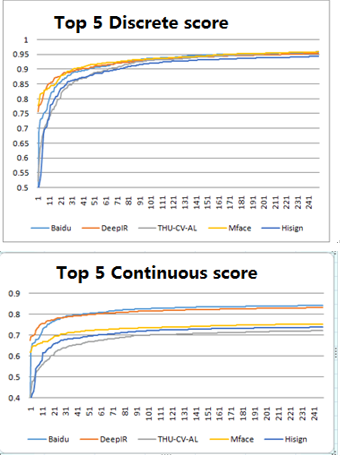 Click
HERE
to view Related link.